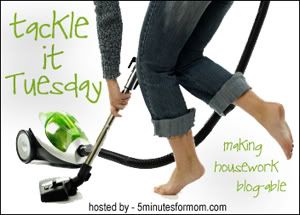 Tomorrow the new kitchen cabinets are going in...that means the new hardwood floors must be laid by, well, tonight! So, today's tackle is finishing putting in the floors.

Here is the before (how the kitchen looked when we bought the house):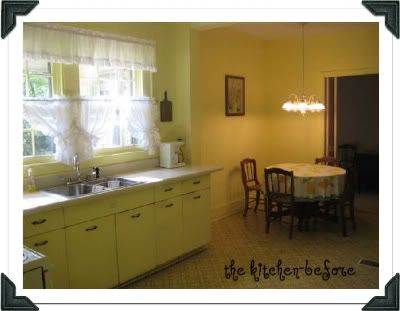 Notice the yellow metal cabinets, creamy colored appliances, and the brown vent hood!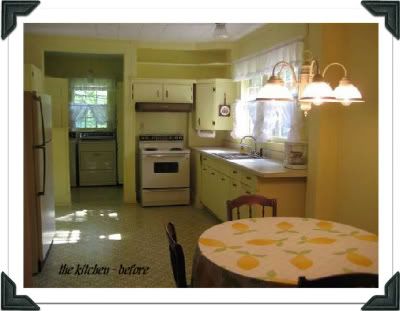 Call me crazy (actually, many did!), but I really did entertain the thought of keeping the floor (see below), painting the walls a pretty cream color, putting in new cabinets and stainless appliances and green accent pieces. A modern take on the retro kitchen? Not to worry, Chad painted part of the floor the first week we were in the house (I'm sure it was an accident!), so back to the original plan of gutting the kitchen, and most importantly, putting in hardwoods!

Here is a closeup of the old floor: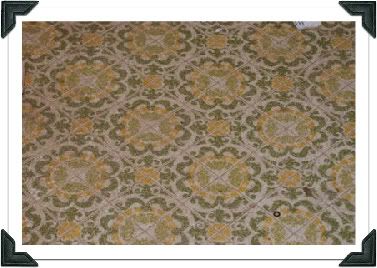 Here is the beautiful new floor being put in: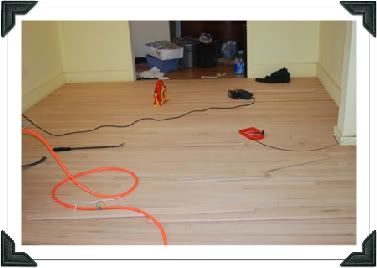 And, finally, here is the room ready for cabinets bright and early in the morning!